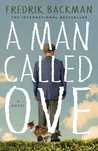 A Man Called Ove by Fredrik Backman
My rating: 3 of 5 stars
Summary (adapted from Goodreads)
Meet Ove. He's a curmudgeon, the kind of man who points at people he dislikes as if they were burglars caught outside his bedroom window. He has staunch principles, strict routines, and a short fuse. People call him the bitter neighbor from hell, but must Ove be bitter just because he doesn't walk around with a smile plastered to his face all the time?
Behind the cranky exterior there is a story. So when one November morning a chatty young couple with two chatty young daughters move in next door and accidentally flatten Ove's mailbox, it is the lead-in to a comical and heartwarming tale of unkempt cats, unexpected friendship, and the ancient art of backing up a U-Haul. All of which will change one cranky old man and a local residents' association to their very foundations.
My Review
This was really a 2.5 star book for me. If I had read it more regularly and not taken 3 months to finish, it may have earned a solid 3. It's a good story. A sweet story. Humorous too. I appreciated the theme. I had difficulty relating to characters, however.
The whole point of the book is to show imperfect people, people with major differences, but they are still valuable in their own way and can even complete each other. A very nontraditional family is created throughout the book, one with struggles and mistakes, but also one with love. I appreciate that the love is created and shown through sacrifice, selflessness and acceptance.
But, many of the characters, particularly Ove, came off so dysfunctional that it was hard for me to believe that the relationships formed could really be as healthy as portrayed. While accepting others even with their flaws is certainly good and Christian, if I were to meet someone with the rudeness and anger management issues that Ove has I would be wary of getting too close. Part of the book's message is of course giving Ove's background to show why he is the way he is. While that helps me to understand his behavior it doesn't make much of his treatment of others acceptable.
There certainly would be much to discuss in a book club about relationships, trials and how they affect us, how we can and should respond to difficult situations and people, the benefits of walking a mile in someone else's shoes and being careful with judgment – just to name a few topics for conversation.
The writing is enjoyable, easy to read but clever and interesting. The book as a whole was not interesting enough to draw me in to the point where I just couldn't put it down. That likely stems a lot from not fully agreeing with Ove's actions, no matter how his past seems to justify them. Characters play a big part in my enjoyment of a book, and since I was wary of the main character the entire time it was hard to be enthralled.
Age recommendation: Because of content and thematic elements I recommend this book to adults, at least 18 and older. Those with more life experience will likely appreciate it more.
Appropriateness: There is tragic content – accidents, death, fights, attempted suicide, anger. There are also adult topics like homosexuality, and there is a lot of swearing. None of it was so crude or graphic that I felt the need to stop reading but it certainly detracted from my enjoyment. As mentioned in my review, this really would provide a lot of material for book club discussion.
Other Book recommendations: If you liked this book or are interested in books with a similar theme you might enjoy Gilead by Marilynne Robinson, The Guernsey Literary and Potato Peel Pie Society by Mary Ann Shaffer and Annie Barrows, When Breath Becomes Air by Paul Kalanithi, The Time Key by Melanie Bateman, Rebecca by Daphnie Du Maurier, Eruption by Adrienne Quintana, Anne of Green Gables by L.M. Montgomery, The Fault in our Stars by John Green, My Story by Elizabeth Smart, Unbroken by Laura Hillenbrand, The Art of Racing in the Rain by Garth Stein, The Alchemist by Paul Coelho, and A Tree Grows in Brooklyn by Betty Smith.